Go, stand on the edge of the Burren, on its limestone pavement and listen; hear the waves crash into the unseen caves beneath your feet. Then turn; look at the Cliffs of Moher as they rise majestically from the raging sea, and you will realise why this extraordinary region, with its magnificent landscape, has been awarded the prestigious UNESCO recognised Global and European Geopark Status.
The Geopark
The Burren and Cliffs of Moher region has become internationally recognised, though plenty of people, some 800,000 per year, have been aware of this hidden gem on the west coast of Ireland for a long time. Not only does the region have the geological importance that is required of a Geopark, it also has the all-important network of organisations that oversee the tourism in the area as well as the education and conservation efforts. For more information on Geoparks visit Burren & Cliffs of Moher Geopark website.
Burren & Cliffs of Moher
Making up over 530 square kilometres the Burren and Cliffs of Moher region offers a diversity that is second to none. There is the natural beauty of the 200 metre high Cliffs with its eight kilometres of rugged coastline, and there is beauty in the vast array of flora, including Arctic and Alpine flowers that grow surprisingly alongside Mediterranean species. There is also the staggering amount of history in the Burren region with over 2,700 recorded monuments, some dating back over 6,000 years. This has led to the Burren being described as "one vast memorial to bygone cultures".
The Burren
The Burren, a remarkable place where geology, ecology, archaeology, agriculture, history, food and traditional Irish music are deeply rooted in the landscape and culture of the region. It is a landscape of hills, valleys, plateaus, cliffs, beaches, turloughs, lakes, streams, depressions, and caves – all of which provide us with a truly remarkable window into the geological history of North Clare and the West of Ireland.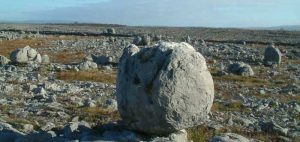 The Burren is one of the largest and most accessible Karst regions in the world. It is the only place on the planet that Arctic, Mediterranean and Alpine plants grow side-by-side. It also has geological and historical wonders and a rich community of people full of passion and pride for this wonderful place.
The Burren National Park
The Burren National Park is located in the south-eastern corner of the Burren and is approximately 1500 hectares in size. The Park land was bought by the Government for nature conservation and public access. It contains examples of all the major habitats within the Burren: limestone Pavement, calcareous grassland, hazel scrub, ash/hazel woodland, turloughs, lakes, petrifying springs, cliffs and Fen.  Approximately 75% of all plant species found in Ireland can be found in the Burren including 23 of Irelands 27 native orchid species.
Location of The Burren & Cliffs of Moher Geopark
The Burren is an area in the North of County Clare, Ireland.
Download The Burren map (PDF 508 KB)